(Photo credit: The Big Lead)
The Giants are in need of some new faces. After a terrible 3-13 season, GM Jerry Reese and Head Coach Ben McAdoo were canned. The Giants made personnel changes, and now its time to find the right players. New GM Dave Gettleman is calling the shots now, and he needs to draft well to turn this team around. Here is my full 7 Round Mock for the Giants. They not only get Saquon Barkley, but also their QB of the future… check it out:
Round 1: Saquon Barkley, RB, Penn State
The Giants pass on a Quarterback?! Yup, for now. Dave Gettleman has hinted at a quick turnaround for the Giants, who are only one year removed from an 11-5 playoff campaign. Gettleman has also said that "with the second pick, we're going to take the best player" (via NJ.com). Saquon Barkley is viewed by many as the best player in the draft class, and would be a great fit with the Giants. Gettleman wants to get back to the old style of ground and pound, hard nosed, Giants football. Barkley would come in right away and be the Giants' workhorse.  He would not only be a dynamic runner, but also as a versatile pass catcher. Adding Barkley to the backfield could finally give the Giants a run game, and it would greatly improve an offense that hasn't scored 30 points in a game since Week 17 of the 2015 Season.
Round 2: Mason Rudolph, QB, Oklahoma State
Mason Rudolph is an intriguing QB prospect. He is seen as a great talent, and could honestly be selected in the First Round. There were reports that the Redskins really liked Rudolph, but with Alex Smith signed long term, it doesn't make sense anymore there. I think if Rudolph isn't selected in Round 1, the Giants should take him early in the Second Round. At 6-5, 230 pounds, Rudolph has great size to develop into a Franchise pocket passer. He was graded by PFF as the second best QB in 2017, with a 91.9 grade. In this scenario, the Giants would get the best of both worlds; they can help their team right away by taking Barkley, and still end up with their QB of the future.
Round 3: Jamarco Jones, OT, Ohio State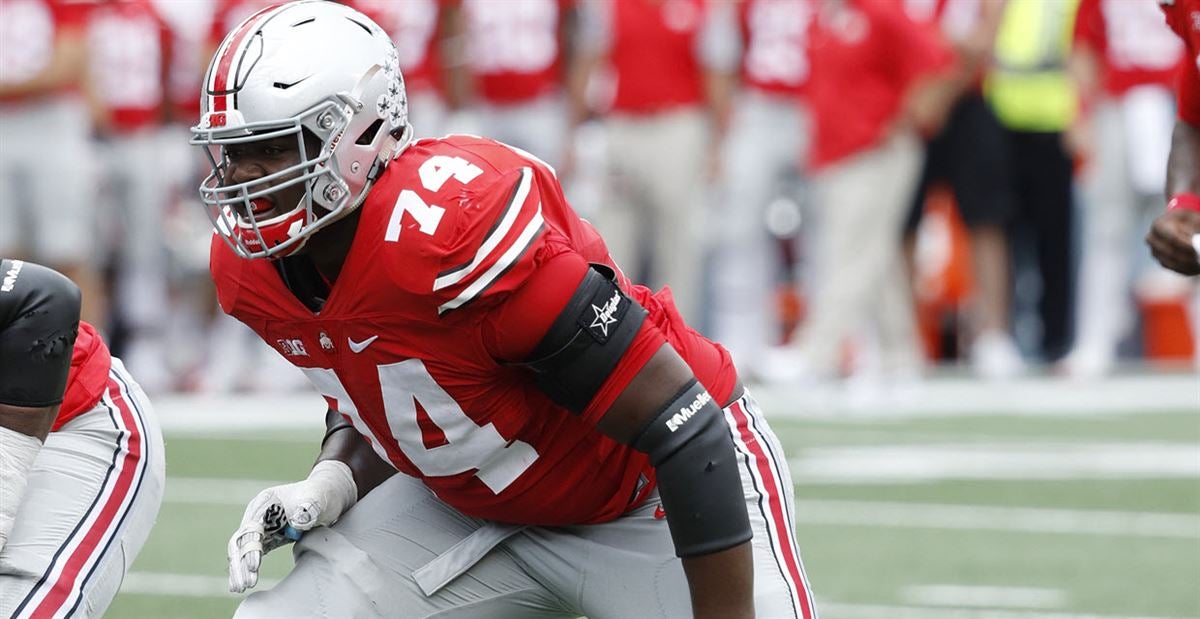 Jamarco Jones is a bit of a sleeper in this very talented Offensive Tackle class. At 6-5, 310 , Jones has a great blend of size and athleticism that would translate well to the NFL. Jones played very well at Ohio State, and had his best campaign last season. Jones was named First Team All-Big Ten by coaches and media in 2017. The Giants need help at the Offensive Tackle position, and Jones could come in right away to help. I see the Giants bringing in a couple proven, veteran offensive lineman during Free Agency to help right away. By doing that, and adding a few pieces through the draft, the Giants offensive line should be greatly improved in 2018.
Round 4: Tegray Scales, LB, Indiana
Tegray Scales has been a big impact defender for Indiana. Since the start of the 2016 season, Scales finished second among all defenders in the nation with 148 solo tackles, and tied for second with 36.0 stops for a loss. Scales is all over the field making plays, and is a great athlete at 6-0, 228 pounds. B.J. Goodson is currently the only, that's right, the only Linebacker under contract right now for the Giants. Scales could come in right away and make an impact on a Giants defense that needs help at the Linebacker spot.
Round 4: Tyquan Lewis, DE/OLB, Ohio State
Tyquan Lewis is a player who can rush the passer, and play well in space. He was second in the nation heading into the season with 43 pressures from the left side, via PFF. Lewis plays similarly to Devon Kennard, who may not be back with the team next year. Either way, Lewis would be able to add some pass rush help and depth to this Giants defense. If new DC James Betcher does decide to switch the Giants to a 3-4, Lewis would be a perfect fit at Outside Linebacker. If they stay in the 4-3, Lewis still could help at DE, and play some OLB as well for the Giants.
Round 5: Kameron Kelly, CB/S, San Diego State
Kameron Kelly is a very under the radar talent from San Diego State. Kelly tallied 67 tackles, five tackles for loss, two sacks, three interceptions and seven pass breakups in the 2017 season. Kelly has great size, athleticism, and physicality to develop into a great corner in the NFL. At 6-2, 200 pounds, Kelly plays physical and is at his best when playing press coverage. He would add some important depth to the Giants secondary. Drafting Kelly would be a great move for the Giants.
Round 6: Antonio Callaway, WR, Florida
Antonio Callway is extremely talented, and is seen by some as a First Round talent. The For example, Callaway became the first player in school history, and the 21st FBS player since 1996, to score a rushing, receiving, passing, punt return, and kickoff return touchdown in a career. The list of the previous 20 players to accomplish this feat includes names like: Antonio Brown, T.Y. Hilton, Ted Ginn Jr., Reggie Bush, and C.J. Spiller. Callaway is in good company there, but the issue with Callaway is that he has a lot of the field problems. He was suspended the entire 2017 season for involvement in a felony fraud case and pleaded no contest to a drug charge in the summer. Callaway is a risk that could yield a big reward. He is an intriguing prospect, and if the Giants can straighten him out off the field, it would be a tremendous selection at this point in the Draft.
Thanks for reading! If you think the Giants should go in a different direction with their picks, send us your ideas on Twitter: @FrontRow_Sport.
Sources: walterfootball.com, nfldraftscout.com, bigblueview.com